PARKEN is the industry meeting place in Germany. This is where operators of parking facilities, service providers as well as experts and managers specializing in parking space at their companies come together and exchange ideas. Find out more about the facts and figures of the event here.

At a glance
As in earlier years, the PARKEN again proved to be an important meeting place for the parking industry in 2019. A total of 112 exhibitors presented their solutions, products, and services to the 1,602 trade visitors on an area of 5,080 m². And 233 participants took advantage of the conference to exchange and gain knowledge.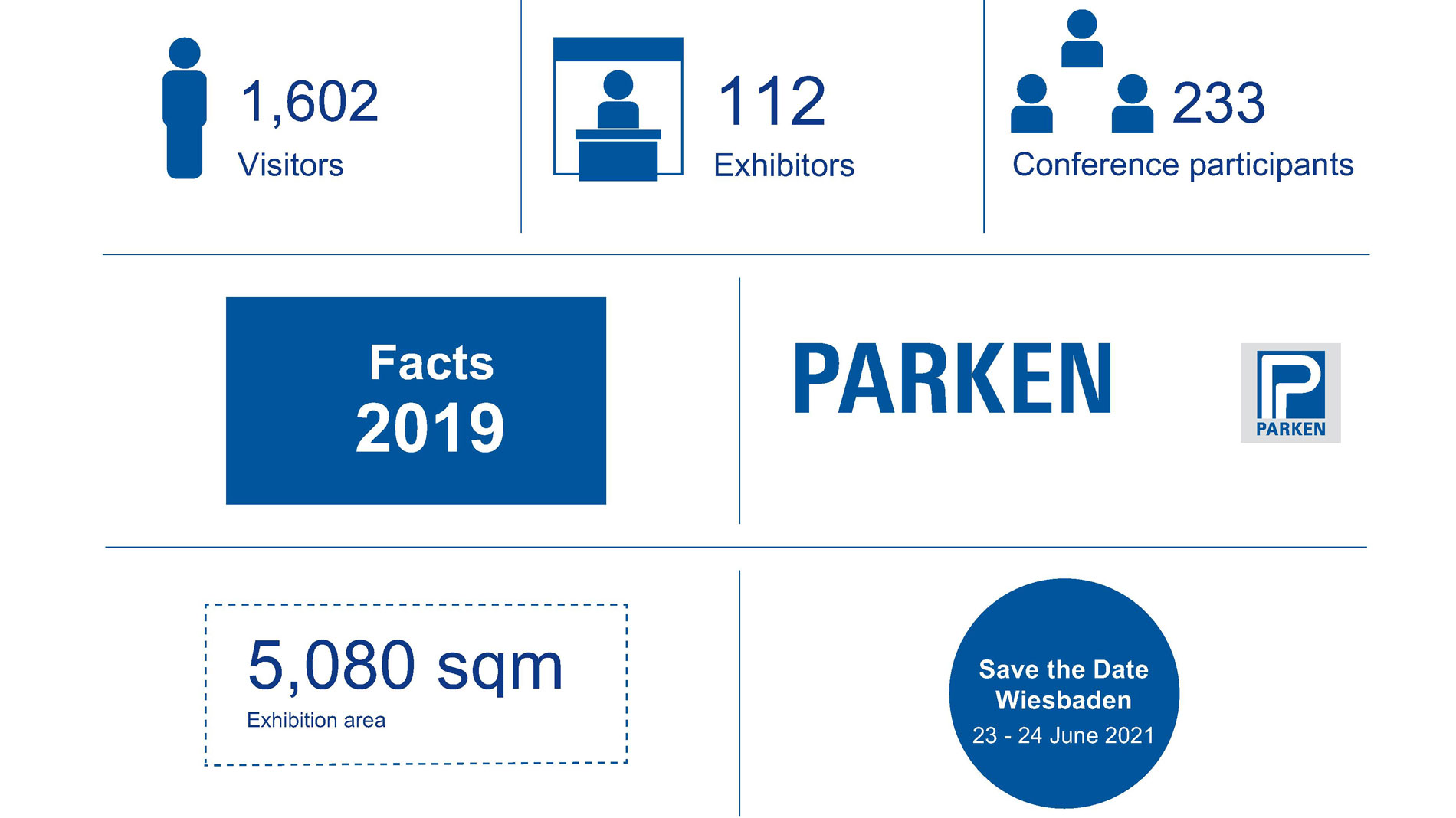 Venue and concept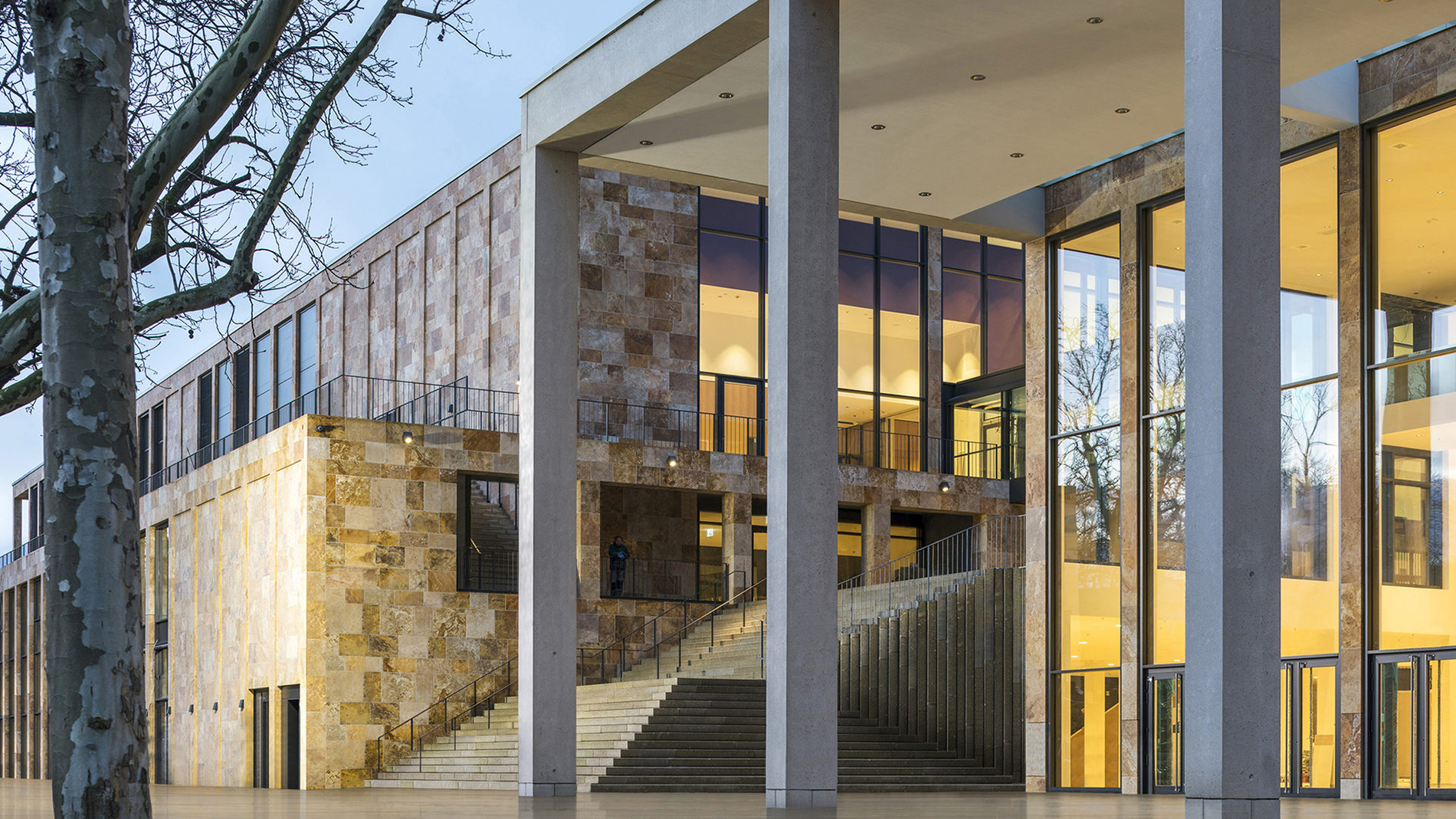 The PARKEN takes place every two years in the RheinMain CongressCenter (RMCC) in Wiesbaden. Alongside respected key players from the industry, numerous young companies showcase their products, developments, and services focusing on the planning, construction, and operation of facilities for stationary traffic.
The PARKEN offers something for everyone, who is professionally involved in mobility, from municipal operators to hotels, airports, clinics and universities.
The PARKEN presents the entire spectrum of the parking industry from parking-garage renovation to cashless payment systems.
The exhibition is the ideal platform for extensive information on products, innovations, and current trends in the industry.
The exhibitors present products and services from the following areas:
Indicator and guidance systems
Construction and maintenance
Payment systems
Consulting
Building control systems
Parking equipment

Parking management systems

Smart mobility
At the PARKEN, exhibitors meet an audience of highly skilled specialists from the entire parking industry. The event is the ideal platform for presenting the latest products and innovations to an expert trade audience. The visitors come from the following areas:
Architecture/ Planning

Construction industry

Consulting

E-mobility

Financing/ Assuring

Trade

Hotels/ Hospitality

Real Estate

Industry

Public sector

Parking operation

PARKING: others

Social and health care

Sports, Cultural, Leisure

Transport and traffic

Science/ Education

Residental complexes/ Offices

Numerous experts, entrepreneurs and decision makers annually meet at PARKEN to inform themselves about the latest trends, current developments and topics of the parking industry, such as e.g.: 
A
A.T.U Auto-Teile-Unger Handels gmbH & Co KG
Aachener Parkhaus GmbH
ADAC E.V.
Airport Parking GmbH
Apcoa Parking Deutschland GmbH
Apleona HSG GmbH · c/o Deka Immobilien GmbH
ARCADIA Investment GmbH
Autobahn Tank&Rast Entwicklungs GmbH
AXA Konzern AG
B
B+B Parkhaus GmbH & Co. KG
Bavaria Parkgaragen GmbH
BMW
BOSCH
BREPARK GmbH
C
city-parking Deutschland GmbH & Co. KG
Continental AG
Contipark Parkgaragengesellschaft mbH
CSE Construction GmbH
D
DACA Parkhausverwaltungs GmbH
Danfoss GmbH
DB BahnPark GmbH
DKV Euroservice
E
ECE Projektmanagement GmbH & Co.KG
Epowit Bautechnik GmbH
F
Fair Parken GmbH
Flughafen Berlin Brandenburg GmbH
Flughafen Köln/Bonn GmbH
Flughafen Memmingen GmbH
Flughafen München GmbH
Fraport AG
H
HAAKE Immobilien & Service GmbH
HIH Property Management GmbH
J
John Deere GmbH & Co. KG
K
Karstadt Warenhaus GmbH
Kögel Bau GmbH & Co. KG
L
LEGOLAND Deutschland Freizeitpark GmbH
M
Max Bögl Bauservice GmbH & Co. KG
P
P+R Park & Ride GmbH
park&pay GmbH
paydirekt GmbH
PayPal
Porsche AG
PRM Parkraummanagement GmbH
Q
Q-Park Operations Germany GmbH & Co.KG
R
R+V Lebensversicherung AG
S
Saba Park Deutschland GmbH
SAP
Schwarz Beschaffung GmbH
Siemens AG
Stadtwerke
T
TomTom Germany
T-Systems International GmbH
V
Vodafone Group Services GmbH
Volkswagen AG
Z
ZECH Bau GmbH