PARKEN has been the parking industry's event highlight since 1995. This is where operators of parking facilities, service providers as well as experts and managers specializing in parking space at their companies come together and exchange ideas. The combination of trade fair and conference makes the event a unique industry event.
Find out more about the facts and figures of the event here.
At a glance
As in earlier years, the PARKEN again proved to be an important meeting place for the parking industry in 2023. A total of 99 exhibitors presented their solutions, products, and services to the 1,620 trade visitors on an area of 5,300 sqm. And 244 participants took advantage of the conference to exchange and gain knowledge.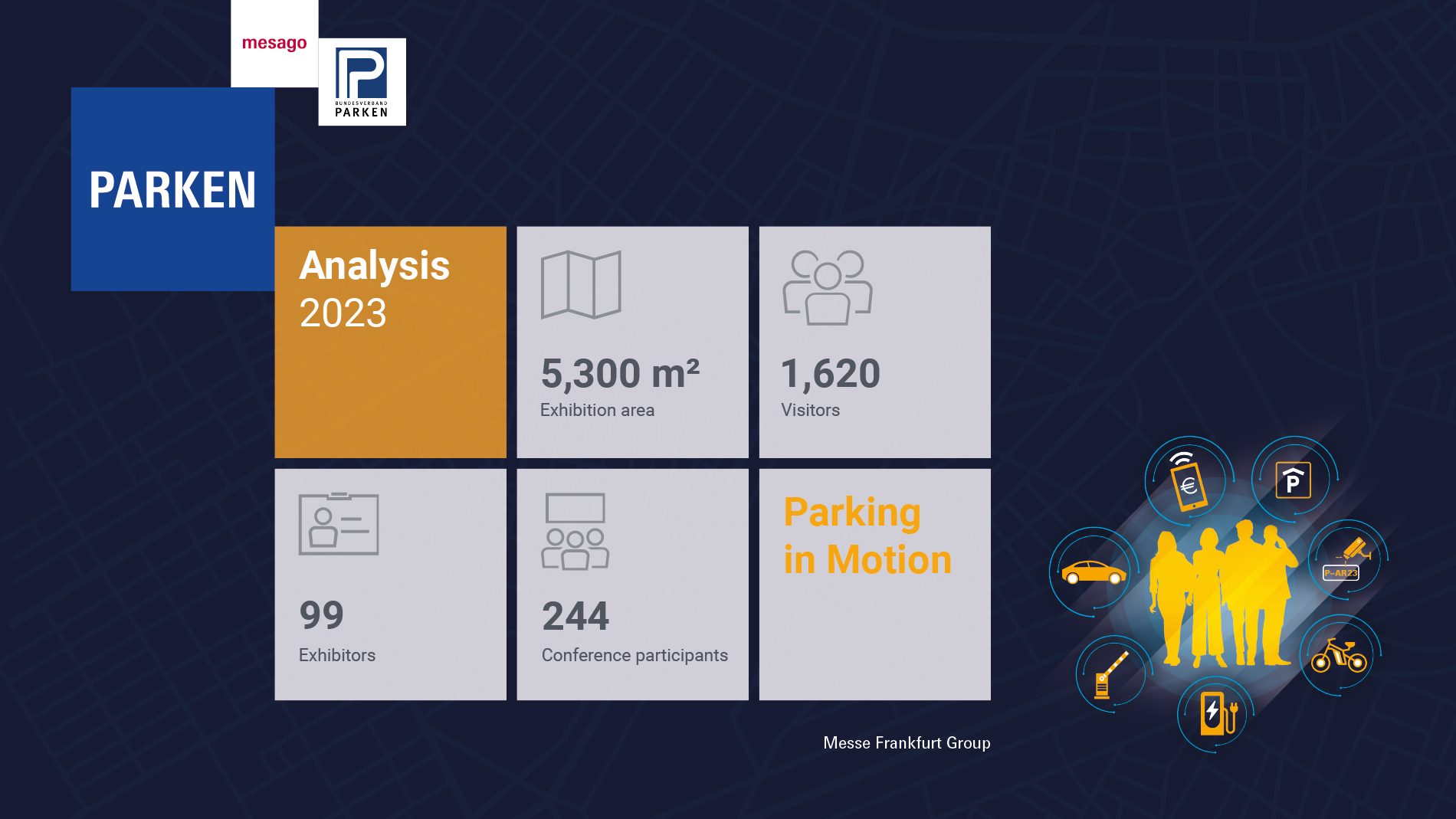 The PARKEN presents the entire spectrum of the parking industry from parking-garage renovation to cashless payment systems.
The exhibition is the ideal platform for extensive information on products, innovations, and current trends in the industry.
The exhibitors present products and services from the following areas:
Indicator and guidance systems
Construction and maintenance
Payment systems
Consulting
Building control systems
Parking equipment

Parking management systems

Smart mobility
At the PARKEN, exhibitors meet an audience of highly skilled specialists from the entire parking industry. The event is the ideal platform for presenting the latest products and innovations to an expert trade audience. The visitors come from the following areas:
Architecture/ Planning

Construction industry

Consulting

E-mobility

Financing/ Assuring

Trade

Hotels/ Hospitality

Real Estate

Industry

Public sector

Parking operation

PARKING: others

Social and health care

Sports, Cultural, Leisure

Transport and traffic

Science/ Education

Residental complexes/ Offices

Numerous experts, entrepreneurs and decision makers annually meet at PARKEN to inform themselves about the latest trends, current developments and topics of the parking industry, such as e.g.: 
A
APCOA PARKING
ARCADIA Investment
Arcadis Germany
B
B + B Parkhaus
B&B Hotels
Bavaria Parkgaragen
Bayern Wohnbau Projektverwaltung
Best in Parking Garagen
BioNTech
Bonner City Parkraum
Bosch Service Solutions
C
Commerzbank
Contipark Parkgaragen
D
DB BahnPark
Drees & Sommer
E
ECE Marketplaces
Enterprise
F
Fleming Hotels
Flughafen Berlin Brandenburg
Flughafen Bremen
Flughafen Düsseldorf
Flughafen Hannover Langenhagen
Flughafen Köln Bonn
Flughafen Memmingen
Flughafen München
Flughafen Nürnberg
Flughafen Saarbrücken
Flughafen Wien
Flughafen Saarland
Fraport AG
G
Galeria Karstadt Kaufhof 
H
hanova
Hochtaunuskliniken Bad Homburg
I
IBE Ingenieure
Ingenieurgruppe IVV
K
Kempen Krause Ingenieure
L
Lahn-Dill-Kliniken
LPI Ingenieurgesellschaft
M
Mannheimer Parkhausbetriebe
O
Ortenau Klinikum
P
P+R Park & Ride
Parkgaragengesellschaft Baden-Baden
Parkhaus Betriebsgesellschaft
Parkhaus Fischmarkt Konstanz
Parkhaus Gelnhausen Stadtmitte
Parkhaus Göppingen
Parkhausbetriebe Butzbach
Parkhausbetriebs GmbH Worms
Parkhausgesellschaft Limburg
Parkhaus-Gesellschaft Waldshut-Tiengen
PBW - Parkraumgesellschaft Baden-Württemberg
PMG - Parken in Mainz
Q
Q-Park
Quantum Immobilien
R
R+V Lebensversicherung AG
Reeperbahngaragen P2 
Ruhr-Park Parkhaus Betriebsgesellschaft
S
Saba Park Deutschland
sander.hofrichter architekten
SBB
Schwarz Beschaffung
SONY EUROPE B.V.
Sparkasse Duisburg
Stadt Alzey
Stadt Duisburg
Stadt Erfurt
Stadt Frankfurt am Main
Stadt Fulda
Stadt Ingelheim am Rhein
Stadt Karlsruhe
Stadt Kehl
Stadt Koblenz
Stadt Köln
Stadt Montabaur
Stadt Münster
Stadt Pforzheim
Stadt Reutlingen
Stadt Rothenburg ob der Tauber
Stadt Wetzlar
Stadt Worms
Stadtwerke
T
TREI Real Estate Deutschland
U
Universitätsklinikum Freiburg
Universitätsklinikum Münster 

V
Volkswagen
VR Bank 
Z
Zoo Hannover
Züblin
"The personal contact is simply what makes the PARKEN exhibition unbeatable. You can enjoy face-to-face exchange, look them in the eye, and initiate new projects or talk about challenges much more straightforwardly."
Venue and concept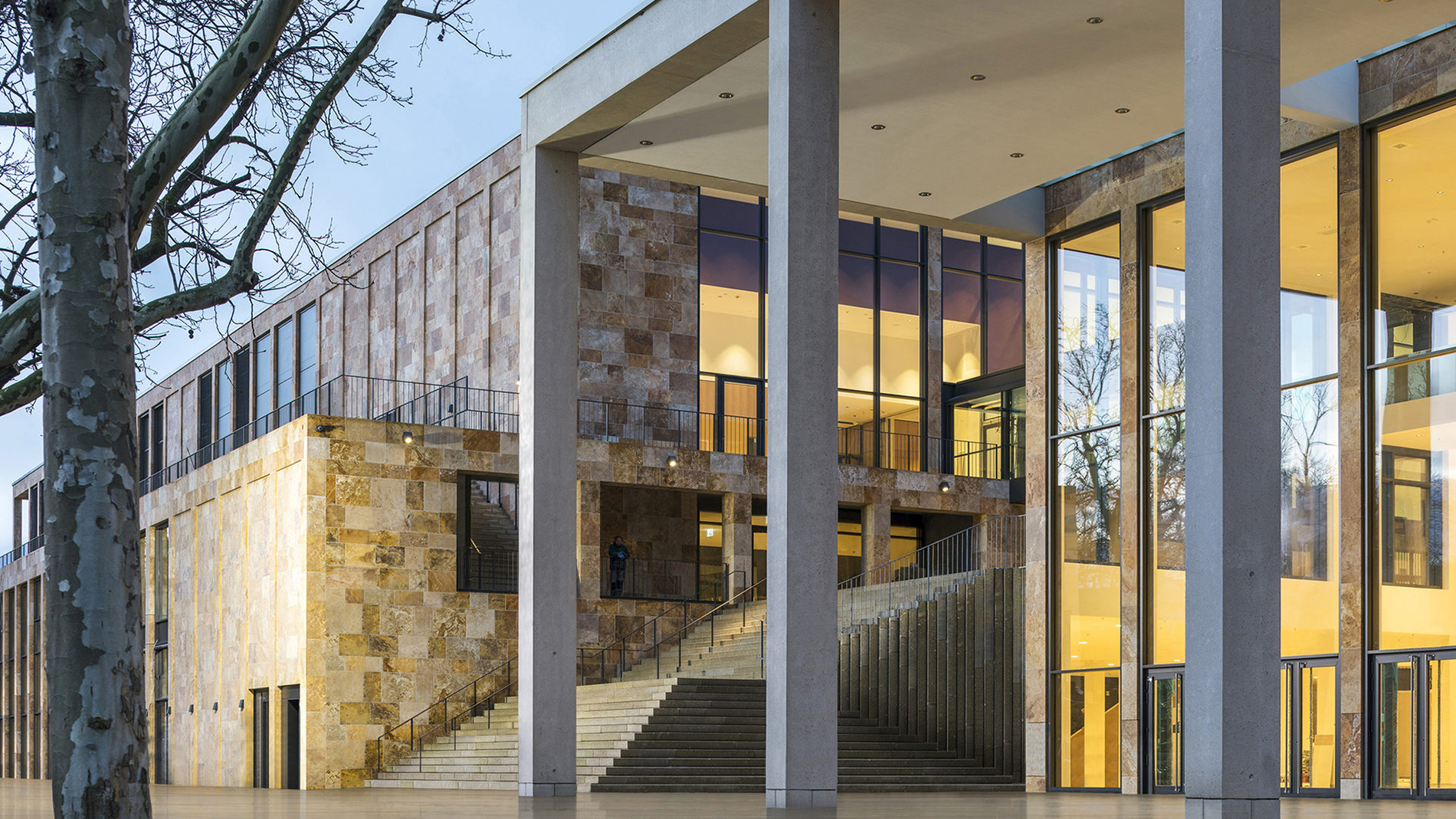 The PARKEN takes place every two years in the RheinMain CongressCenter (RMCC) in Wiesbaden. Alongside respected key players from the industry, numerous young companies showcase their products, developments, and services focusing on the planning, construction, and operation of facilities for stationary traffic.